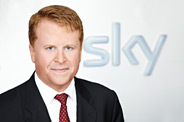 Brian Sullivan (born 1962) has been CEO of Sky Deutschland AG since 1 April 2010. Under his leadership, Sky has achieved a number of important strategic milestones, including securing the exclusive Bundesliga media rights for the 2013/14 to 2016/17 seasons, the introduction of innovative services such as Sky Go, the continuous program and product expansion, further optimization of the customer service as well as sustainable improvement of all key metrics of the company.

The American-born is a veteran of the pay television industry, with more than 20 years of experience in the USA and Europe. He joined BSkyB in February 1996 and held a variety of roles at the company, including Channels Marketing, Digital Transition, Retention & Customer Marketing and Product Strategy & Management. From December 2006, he was Managing Director of BSkyBís Customer Group. Prior to joining BSkyB Sullivan had spent most of his career in the pay TV industry in the USA, including time with Viacom's Showtime Networks.

He is a native of Philadelphia, USA, attended Villanova University, and is a Fellow of the Institute of Direct Marketing.