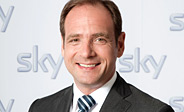 Carsten Schmidt (born 1963) is Chief Officer Sports, Advertising Sales & Internet of Sky Deutschland. He is responsible for the editorial work and production of sports programming and sports rights purchasing. He is also in charge of all of the company's online activities as well as the program management of Sky Österreich and is acting as Managing Director of Sky's advertising sales subsidiary Sky Media Network.

Before his appointment to the management board of Sky in March 2006, Schmidt had led the sports department at the Munich-based entertainment company for several years. Prior to that, as Managing Director of WIGE Media, one of Europe's leading sports media providers, he was in charge of the Marketing and Television division for four years.

Schmidt is also a Director of the Sky Foundation and spokesperson for the advisory board of the Fachverband für Sponsoring und Sonderwerbeformen eV. (FASPO; Professional Association for Sponsoring and Special Advertising Formats). He was awarded with the Deutsche Fernsehpreis in 2003 for the Bundesliga conference innovation and named "Sports Business Manager of the Year" by specialist magazine HORIZONT in 2012.